Learn to Write Well: Stephen King's Best 10 Tips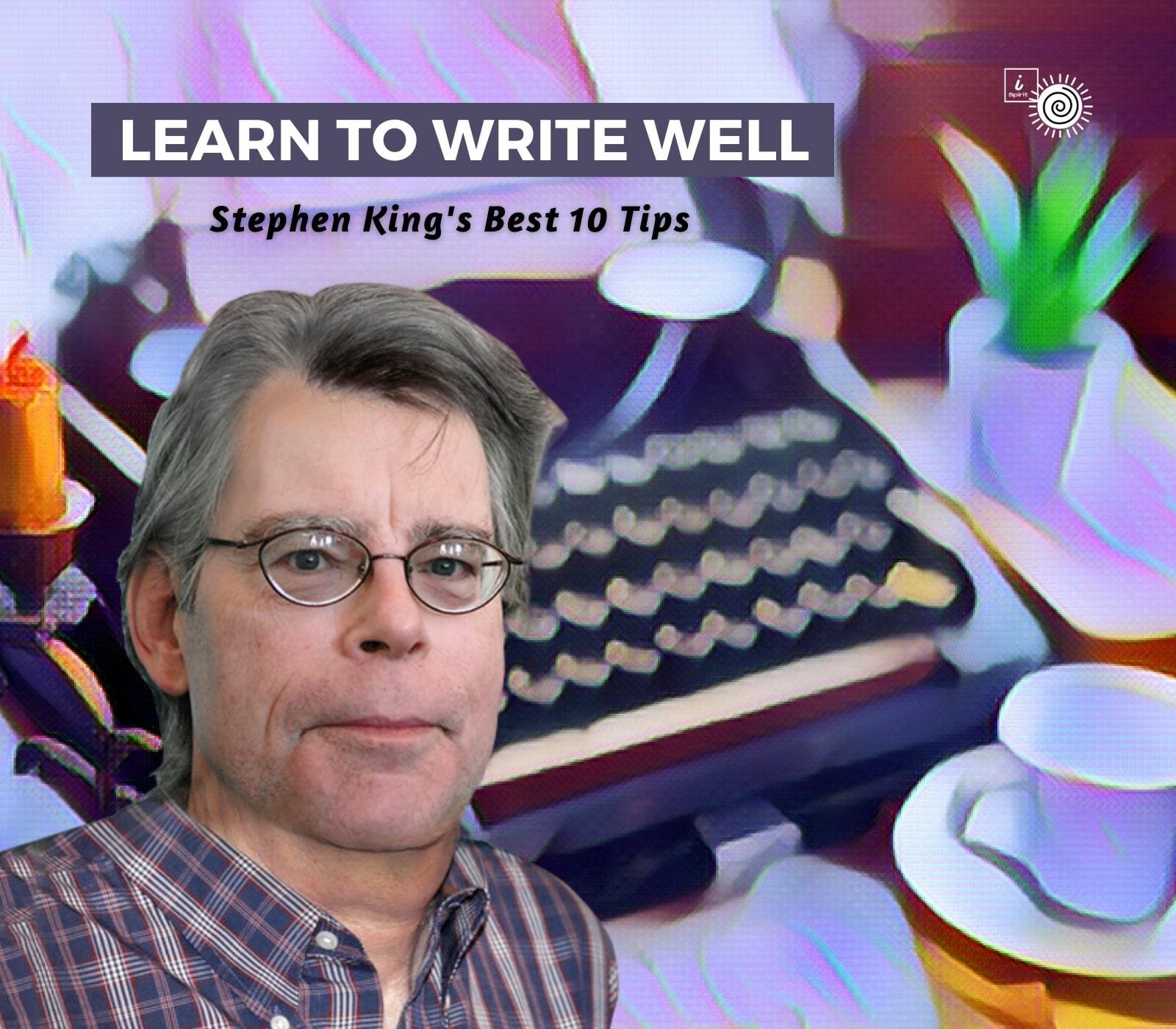 Learn to Write Well: Stephen King's Best 10 Tips
Ten Ways to Start Writing Better according to the Author Stephen King
There is nothing better to learn to write well than to hear the tips of great authors, isn't it? So, get ready. We have separated some of the best suggestions from Stephen King, a renowned American author. He has published more than 50 books and sold more than 350 million copies.
Turn off the TV and go read a book.
Yes, it is a piece of advice for all of us, but it is beneficial for a writer. According to Stephen King, television is like a poison for creativity, and the cure for that poison is constant reading.
Carry a book with you wherever you go (thankfully, there are eBooks, isn't it?). Read before bed, during transportation, during work breaks, even while eating. And with this reading, think critically, get inspired, and write a lot too.
Disconnect from everything when writing.
Besides turning off the TV, you should also turn off your cell phone, disconnect from social media. He advises us to basically disconnect from any distractions that may hinder our creative process. Even an open window can get in the way.
According to Stephen King, you should write with the door closed and rewrite with the door open. Writing is a job that requires complete privacy. The act of writing the first draft must be pure and intimate as if the story itself is stripping in front of you. In other words, close that door and don't let anyone in!
Do not try to please others but yourself.
To be a good writer, you must be true to yourself. According to Stephen King, this involves letting go of certain social conventions while you write books. As a result, you are likely to receive some negative reviews regarding the content of your books.
Stephen King himself was once considered even a psychopath by dissatisfied readers.
After a while, he realized that these criticisms were inevitable and accepted them. His advice is simple: leave your worries behind, and if anyone complains about what you wrote, just let it go.
According to Stephen King, the purpose of writing is to bring happiness and satisfaction to the writer. That's why King writes. It is the reason why he has managed to write so many books for so many years.
Write about what is difficult to say out loud!
Everything that really matters is difficult to say out loud. These are matters that make you ashamed. It is as if the words were not enough. (Or at least that's how Stephen King thinks).
From King's perspective, writing is like polite thinking. And the best works of writing address subjects that demand hours and hours of reflection.
When writing, you must see your story as an archaeological relic, which needs to be found, excavated, and interpreted. Dig the depths of your mind, turn over difficult subjects, and you will write a memorable story.
Don't be pretentious in your choice of words.
Writing and publishing a book on difficult subjects and topics does not mean that you need to use complicated words. In fact, it just gets in the way of the reader's understanding. For Stephen King, this is one of the worst atrocities that a writer can commit. And it's basically tacky.
In our article, we believe that Less is more: learn to reduce your text to what is necessary. We try to inspire you with words you should avoid and how you can communicate with the reader directly and straightforwardly.
Avoid adverbs and write short paragraphs!
Adverbs may seem like your friends, but they are not. Stephen King even claims that "the road to hell is paved with adverbs." Heavy, but it makes sense. Most of the time that an author uses adverbs in narrative texts, he could have conveyed the idea with just one verb or adjective. For example, instead of saying "very scary," you can say "terrifying."
It is also good to pay attention to the length of your paragraphs, as they set the pace of the story and play a crucial role in the fluency of the text. After all, very long paragraphs often discourage readers. According to Stephen King, the aesthetics of sections is almost as important as their content.
Don't give so much importance to grammar.
According to Stephen King, writing is about seduction, not precision. The purpose of a fictional story is to engage the reader and tell a story, and it has nothing to do with grammar.
While it is important to follow the educated norm to a certain degree, several grammatical structures are popularly used. Sometimes, writing "right" means writing in a way that will not please readers. The purpose of a narrative is to be so fluid that the reader will forget that he is reading a book.
Don't give too much information.
There is a difference between teaching a class on the subjects that your book addresses and using that knowledge to enrich your narrative. According to Stephen King, you should only mention the information that contributes to the development of the plot and the reader's engagement.
It is important to research before writing a book, but that research should not overshadow the story. The details you have learned should stay deep inside, as erased as possible. Yes, it is normal to be fascinated when you study a subject, but what really interests readers is your story. If they wanted information, they would read non-fiction.
Don't try to copy another author's voice.
Imitating another author's style may even be a useful technique for writing training, but it shouldn't go beyond that. When you're writing and publishing a book, it's time to take yourself seriously and use your own voice. Only then will you have a unique identity.
Remember that it is not possible to reproduce someone else's experience identically. Therefore, you also cannot replicate their voice and identity. Do this, and you will be nothing more than a cheap imitation without personality. Do not ignore your uniqueness!
Write authentic stories.
No, this does not mean that you have to write only about real facts, but your stories must be sincere, credible, and reproduce the truth.
According to Stephen King, bad books are often written by authors who refuse to tell authentic characters, who act like real people. For example, a murderer can help an old woman cross the street.
Last Extra Tip: Live a full and healthy life.
Stephen King claims that his success is entirely due to his marriage and good health.
The combination of a healthy body and a stable relationship with an independent woman who speaks her mind and is sure of herself enables the longevity of his professional life.
Follow us on Facebook| Instagram| Pinterest